Nyanda signed with Cat Music Record Label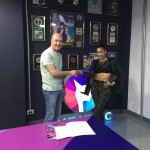 Nyanda, (ex-member of the girl band Brick&Lace), is the newest artist of Cat Music and is preparing to release a new single. She came back to Romania and signed an artist deal with the record label.
This is not her first collaboration with Cat Music. A few months ago, Nyanda had released the song "All My Love", with more than 6 million views on YouTube. Her career includes hit-single such as "Love Is Wicked", "Bad To Di Bone" or "Never Never" with Brick&Lace and also solo songs: the reggae remix for Taylor Swift's "I Knew You Were Trouble", "Put It On Me", Slippery When Wet" etc.
Nyanda has an unique voice and a wonderful reggae performance. Also, she is a composer and worked with Bloodline team for the smashing hits from Jennifer Lopez (Follow The Leader) or Christina Aguilera (All Around The World).